Where Endless Possibilities Await
From its sunny desert landscapes to its rapidly growing business scene, Adelanto offers a unique blend of natural beauty and economic opportunity.
Demographic Snapshot
Population: 38,783 residents
Median Household Income: $58,040
Median Age: 27.5 years
The "City of Endless Possibilities" is more than just a moniker; it's a reflection of Adelanto's resolute vision for success and sustainability. This flourishing city has become a testament to growth, welcoming people of all backgrounds driven by an entrepreneurial spirit and a commitment to future growth. With unwavering determination, Adelanto propels itself forward, continually expanding its horizons, and providing a nurturing environment where dreams transform into realities.
Business Opportunities
Located along Highway 395 and with easy access to major roadways, including Interstate 15, Highway 18, and Highway 58.

A significant surge in logistics, manufacturing, and industrial development, creating abundant business opportunities and fostering economic growth.

Affordable real estate options and a lower cost of living, making it an ideal choice for startups and expanding businesses looking to maximize their budgets.

The Adelanto Plaza and Event Center, which offers ample space for performances, sports events, and other large events.

Situated near major markets like Los Angeles and Las Vegas, enhancing market reach and potential.

A close-knit business network fosters a strong sense of community and offers an array of resources to ensure continued success.
Fun Fact: Did you know that Adelanto's name means "progress" in Spanish? It reflects the city's commitment to forward-thinking and embracing new opportunities, making Adelanto an ideal place to live, work, and grow.
The future looks bright for this growing city, so we invite you to explore Adelanto and discover the endless opportunities that await you here.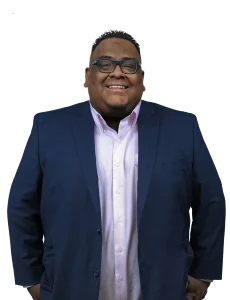 Mayor Gabriel Reyes
My fifth year of leadership in the City of Adelanto has been an incredible experience. I'm continually impressed by our team's dedication to the community and each another. 
Our administration has gone to great lengths to improve the lives of our citizens and expand services offered to our residents. 
On the economic development front, Adelanto has continued to attract developers from across the globe. Presently, our City has 82 active building permits. One of our most exciting upcoming projects is the AES Silver Peak solar-plus-storage development. This project is adjacent to the AES Baldy Mesa facility, which generates enough clean energy to power over 15,000 homes!
Additionally, our staff is working hard to continually oversee a number of critical Capital Improvement Projects (CIP). Our next major CIP is the Bartlett Avenue Rehabilitation, extending from Adelanto Road to Lilac Road. This project is expected to break ground in October of this year. 
We've also been hosting our remarkably popular Movies in the Park events, attracting hundreds of residents from the City of Adelanto and the surrounding neighborhoods. The final screening of the year will be at the Adelanto Stadium on October 30th and we're expecting a huge turnout! These events are always free, and City staff will be on site to provide refreshments for our residents at no charge. 
The Adelanto Animal Care and Control team continues to organize our City's microchip and vaccination events for residents. The October 14th Animal Clinic will provide free microchips to citizens of Adelanto at City Hall! Our Council is proud to offer this service, ensuring that more lost pets are safely reunited with their owners. 
Finally, the City's quarterly Community Clean Up event is now including hazardous waste drop offs (at a separate location). This additional service has been highly requested. Our Code Enforcement team has worked tirelessly to make this possible for our residents. 
Adelanto's City Council, City staff, and residents will continue working together to improve our community.
State of the City
2024
The State of the City is your annual invitation to celebrate Adelanto's accomplishments and discover the promising initiatives shaping our future.