Ambassador Committee
Join the Pulse of Our Business Community
As the welcoming arm of the Greater High Desert Chamber of Commerce, the Ambassador Committee stands at the forefront of fostering vibrant business connections. Our ambassadors are not just volunteers; they are the dynamic representatives of our diverse business landscape. They play a crucial role in member retention, recruitment, and creating a supportive environment for business growth. By joining this energetic team, you'll have the unique opportunity to network, gain visibility, and directly contribute to the economic vitality of our region. Whether you're a seasoned business professional or just starting out, the Ambassador Committee is the perfect platform to deepen your community ties, enhance your business acumen, and make lasting impressions. Embrace the chance to be the face of change and progress in the Greater High Desert — where every handshake represents a new opportunity!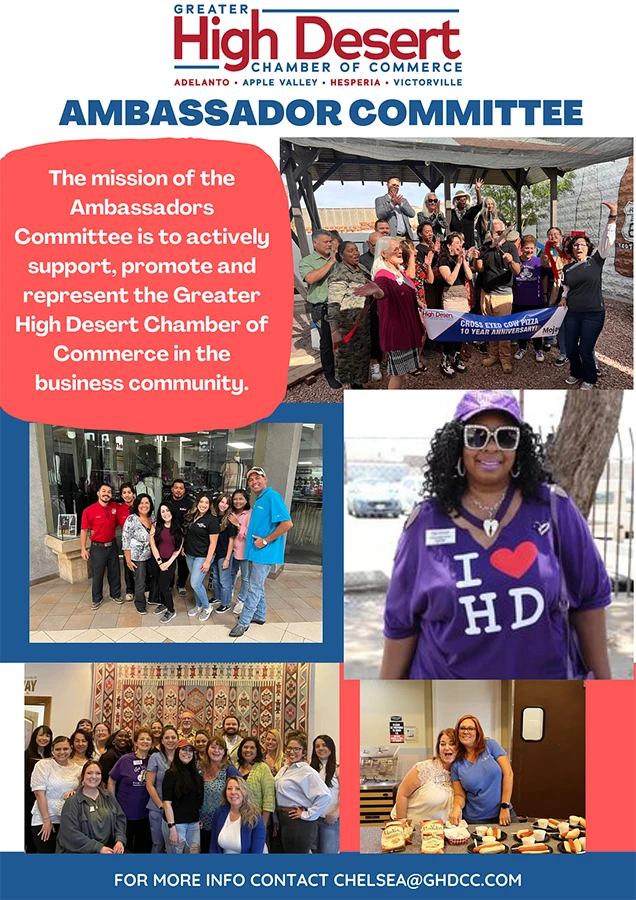 Join the Ambassador Committee Waitlist
Due to overwhelming interest and a commitment to maintaining a high-quality experience for all members, the Ambassador Committee is currently operating with a waitlist. This reflects the incredible demand for involvement in our dynamic team and the significance of the role our ambassadors play in the Greater High Desert business community. If you are keen to join this influential group, we encourage you to add your name to the waitlist. Simply fill out our easy-to-navigate online form, providing us with your contact information and a brief overview of your interest in the Committee. By doing so, you not only express your eagerness to participate but also ensure that you are among the first to be considered when new opportunities arise. Don't miss your chance to be part of this vibrant network of professionals dedicated to fostering business growth and community engagement. Sign up for the waitlist today, and take the first step towards becoming a pivotal part of our business community's future!